Direct mobile access – your way
Fixed Mobile Convergence enables you to provide Unified Communications to your corporate customers, eliminating the differences between fixed and mobile networks and enabling you to provide advanced single number services to each corporate employee. You can help your corporate customers ensure rapid decision processes, regardless of where their employees are in the world and the handheld device, headset, laptop or tablet they are using.
What it is
Mobile Convergence finally removes the differences between fixed and mobile networks. It will provide a superior customer experience by creating seamless services using a combination of fixed broadband and mobile network to meet customers in their homes, offices and on the go.The MC Service is available in Denmark only.
How it works
A SIP connection is established between the Service Provider and Telia to route all traffic.
The size of the connection is based on an individual assessment of traffic volumes and number of subscribers.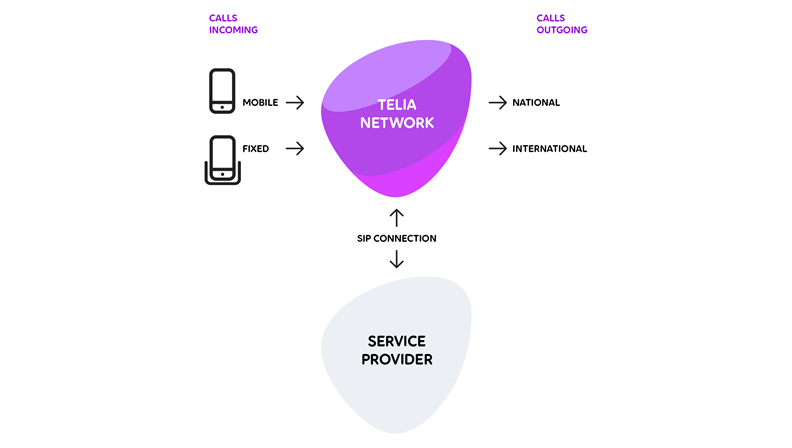 All voice calls to and from the Service Provider are passed back and forth via the SIP connection. Once the traffic reaches the Service Provider's PBX or switchboard, the Service Provider determines how it should be handled. All traffic except traffic going to the Service Provider's own platform (switchboard or PBX) is routed back to Telia who terminates it accordingly. This allows the Service Provider to use a one number concept and change the A-number presentation. A special routing prefix is allocated to the Service Provider, and the traffic is marked to determine whether it is local, national, international or terminating.
What you get
SP Mobile Convergence offers a simple, flexible and secure fixed/mobile solution enabling you to offer an advanced "one number" service for each subscriber.
A simple and secure solution
Simple subscriber administration and expansion
Control of A-number presentation
Access to mobile phone status at all times
A call plan determining the fixed and mobile numbers connected in the one-number concept