"The Telia Hackathon pushed us right to the edge, so we performed to the maximum," say the winning team, AvoGenie, worthy recipients of the first prize of DKK 30,000. This start-up aims to democratise education with an app to put parents in touch with private tutors for their children.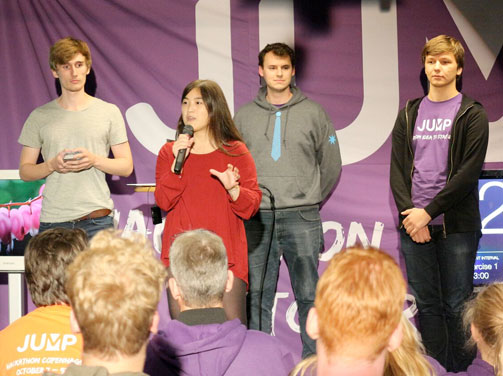 Adrian Brink, COO: "We are exhausted and happy. This is actually the fourth Hackathon I have taken part in, but it is the best organised of them all."
And you're not just saying that because you won?
Sorin Adrian, web development: "No, no. It was great, for example, that we could sleep here, so we could perform at our best. There were even sleeping bags if you had forgotten your own. And we got super feedback, both from Telia staff and the people from Start Up Wise Guys. The food was really good, which also counts for something when you're working so intensively for many hours. So huge thanks to mentors and staff."
Awa Sun Yin, CEO: "It was actually a Telia employee who got us to go out yesterday to do some research in a shopping centre and interview possible users. That was very useful, along with an online survey we put together quickly on Saturday."
Asger Balle, COO: "All the mentors took plenty of time to talk to us. They pressed us and pushed us right to the edge, so we performed to the maximum."
What is the next step?
Adrian Brink, CTO: We will talk about it a lot over the coming days and months. We will go to a team validation to determine the next steps. And I guess I can say it, Awa?"
Awa Sun Yin: "By all means say it. If we can do all this in 48 hours, why not?"
Adrian Brink: "We hope to launch in the first quarter of 2017 and roll out from there."
And the team also need to finish their studies, as they are all working on their Masters. Sorin, 22, and Asger, 27, are studying software development at ITU, 23-year-old Awa is studying e-business at CBS, and Adrian, also 23, is studying technology and computer science at Copenhagen University.