Good ideas safeguard the company's future, but they are often killed when they have to pass through three or four levels of management, says Peter Egehoved from SEED Capital. Find out how to give your ideas the best chances of survival.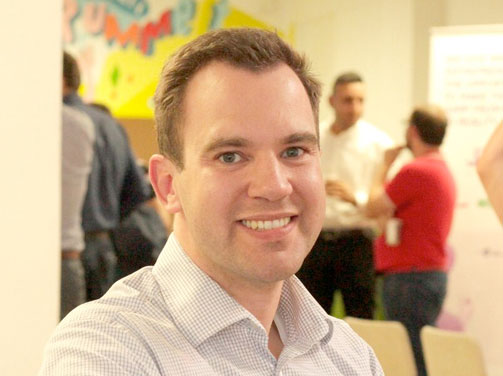 Peter Egehoved is an investment manager for the venture capital fund SEED Capital, which has helped successes like Vivino, Endomondo and Trustpilot. Here he is at Telia's Idea Garage at Republikken in Copenhagen, where he was a member of the judging panel.
Tech start-ups are very good at having new ideas. Time after time they disrupt the market while the mastodons watch in surprise. They work quickly and innovatively to make the world a more pleasant, safer and smarter place. Their decision paths are short, their structure is simple – and they network effortlessly. And they are incredibly dedicated.
"The work culture in the tech start-up companies is something large companies can learn a lot from. If they are open to implementing it, they may avoid getting overtaken on the inside and reel in some of the successes of the future," says Peter Egehoved.
No sacred cows
He used to work for Microsoft, but he is now an investment manager for the venture capital fund SEED Capital, which invests in early tech start-ups and helps them to grow big.
His job is to decide whether he believes in the product and the team, and whether they have the potential to create a billion-dollar business. Nothing less than that.
"The reason why a small firm can beat IBM is that it has the freedom to compete and the ability to execute quickly. They don't have to "kill their darlings", unlike large firms that have to cannibalise their own earnings when they create a competing product."
Many people get the same idea
Good ideas can come from all parts of the organisation, says Egehoved.
"But they will be quickly be killed if they have to fit 100% into the structure of a big company. You can kill ideas with reporting and bureaucracy."
But he doesn't believe in ideas being something sacred or unique; the crucial thing is the execution.
"When you get an idea, you will be influenced by a number of impressions, from technological development to what you just heard on TV. Other people may come up with the same thing, such as the need for a new fitness app. In itself, the idea is worthless. The more important thing is who executes best and quickest. The idea is a foundation, and it may be quite different in the second or third project that – possibly – comes to something."
He has five tips for getting ideas to bloom rather than dying. At the extreme, they could save the business.
How ideas survive best
1. Assemble the right team
Academic studies of start-ups show that a good starting point is three people with complementary skills. For example, one who knows about strategy and management, one who is good at marketing, and a CTO (someone who can code).
2. Avoid bureaucracy
Invest a few million kroner in the team and give them free rein for a few months or half a year. Have the team report directly to the CxO (senior management), and don't close it down the first round of savings. Keep a lid on the number of meetings.
3. Reduce expectations
There will be no positive buttom line for the first couple of years. That's the way it is. The more ambitious the project, the longer it will run. Google made no money for the first few years. Amazon re-invests everything in growth. Focus on whether the product makes sense and adds value for customers.
4. There has to be a carrot
People with ideas they believe in are incredibly dedicated individuals who will go a long way. But don't expect the team to work until their fingers bleed if there is no upside. Provide solid motivation in the form of salary, bonus and even co-ownership. For example, the team might own 20 per cent of the new start-up. Otherwise, they could easily leave the company and start up on their own.
5. Relate to your core area
The expected product – which is likely to change several times along the way – must relate to the company's business areas. Don't be afraid to cannibalise the business if it is the right thing for you and your customers. If you don't do it, others will.