There was a vibrant atmosphere at the last Idea Garage during the Hackathon weekend. Telia's head office in Holmbladsgade was the location, and three of the 10 pitchers were from Telia.
The canteen is buzzing with German, English and Danish start-up talk, as serial entrepreneur Christobal Alonso welcomes the audience and ten brave start-ups. When the technology later plays up in the middle of a pitch, he improvises with dance moves.
Unlike the first Idea Garage, a few of the judges and staff have matching Jump T-shirts and, perhaps because this is the fourth and last session during the Hackathon, the mood is both relaxed and concentrated.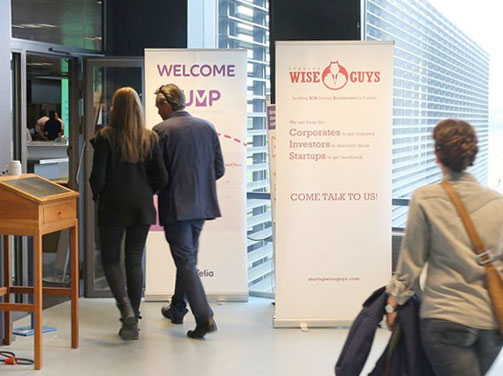 Participants and audiences flood into the last Idea Garage.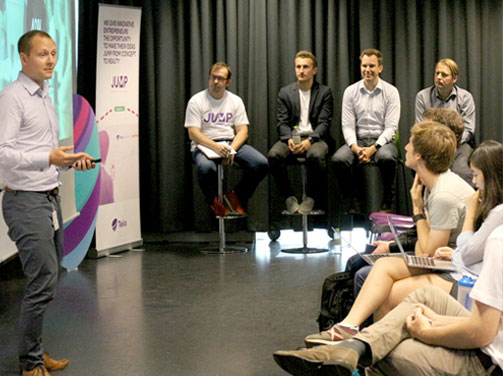 Claus Berthou Madsen, who is a Senior Project Manager at Telia, presents his digital business assistant, 'Minutes', which can take notes of the meeting and summarise the key decisions, action points and topics in a set of minutes – and ensure that they are followed up. The judges advised him not to worry about finding Danish speech-to-text software, as English will open up a bigger market.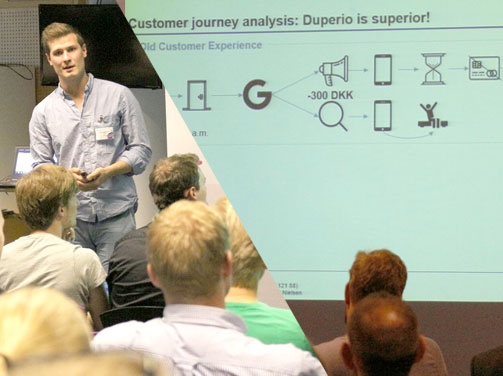 On the slide, Louis Muehleck is showing how his web-based locksmith portal Duperio, containing ratings and other features, will make it easier, quicker and cheaper when you come home drunk on a Saturday night and discover at 4:32 a.m. that you have locked yourself out and need a locksmith. The judges want to know whether he has been in that position himself and – more seriously – whether he has researched locksmiths to check that the name is not protected, and why his service is better for locksmiths than Adwords.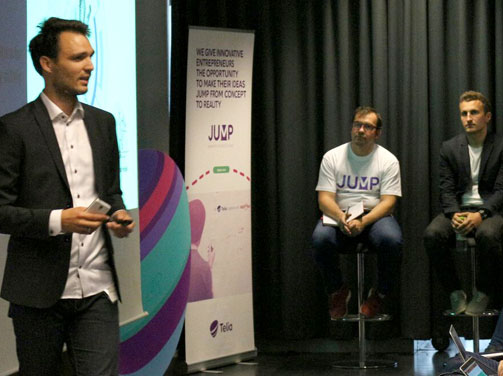 Kresten Juel Jensen wants Motosumo to bring people together in its real-time training facility, so they get a real live sense of belonging to a fitness team. All it needs is a smartphone and data access, and it does more than just display the training results to your Facebook friends afterwards. Even now, the app lets you attach your mobile to the exercise bike, view your performance live and get a graph for the last three minutes.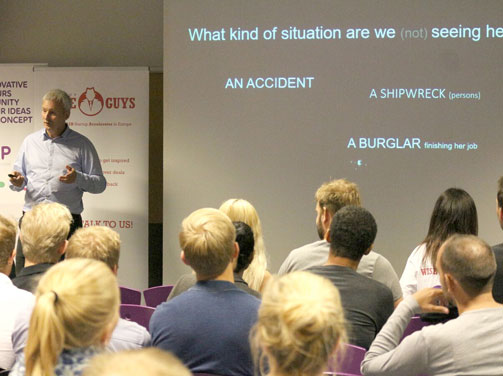 Lieuwe op ´t Land, a Technical Product Manager at Telia, has a solution to a universal problem: the fact that it gets dark. A drone with a light source and cable connected to a battery or other power source on the ground can provide convenient, flexible and portable work lighting for the police or Falck rescue services, for example. The judges urge him to build a prototype, and suggest he can do it quite cheaply.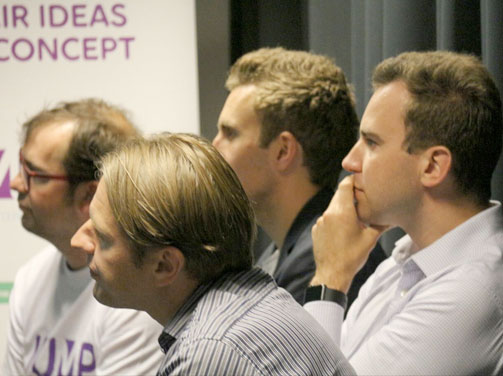 A pitch gives the judges something to think about. From the left: serial entrepreneur Christobal Alonso from Startup Wise Guys; Henrik Stenson, Head of Enterprise at Telia; Steffen Frølund, co-founder of Bownty; and Peter Egehoved from the Seed Capital investment fund.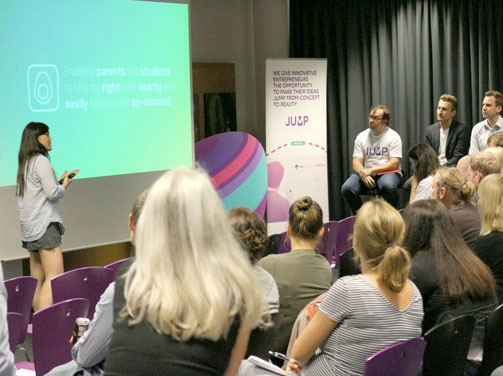 A Danish-Spanish-German team of three presents the AvoGenie app, which is designed to make it easy to find private tutors or coaches in your local area. The idea originates from the UBER Smarter Copenhagen Hackathon back in May this year. Here Awa Sun Yin explains the concept to the judges, who want to know how they will ensure that people don't drop the service when they have found each other via the app.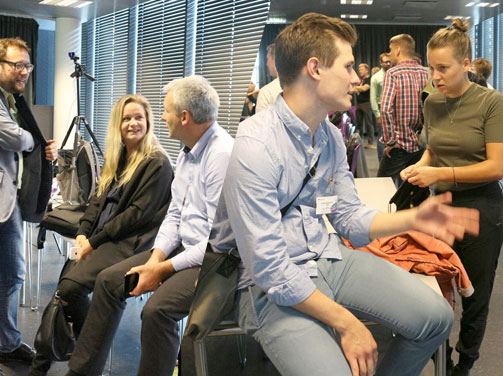 Every Idea Garage makes time for mingling.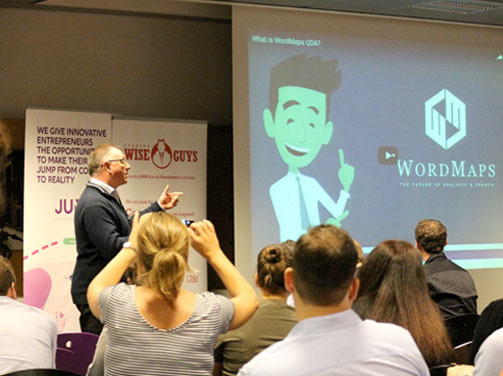 Olfert Rahbek presents Wordmaps with a promotional film. This is a Qualitative Data Analysis (QDA) program, which can analyse large volumes of text and handle what you want in e.g. reports and displays.