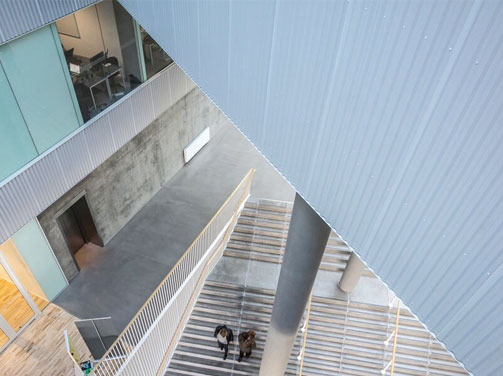 The futuristic surroundings of Navitas in Aarhus. Photo: Lars Ditlev.
The participants in Aalborg delivered some immaculate pitches. Digital platforms were the focus of the Idea Garage in Aarhus.
Nordkraft in Aalborg is a former coal-fired power station. The raw industrial architecture houses a melting pot of culture, sport, entrepreneurship and events. On 21 September, the cultural centre added Telia's Idea Garage to the list. And it was fired up, says Telia's Innovation Manager, Jens Friholm.

"All of the participants were part of Aalborg University's AAU Incubator, where students are given all sorts of facilities to test and develop their business ideas. You could see that. They were good at pitching and raised the bar in terms of being well-prepared. Most of them were well on in the process."
Digital platforms for everything
The Idea Garage in Aarhus was held the following evening in Navitas' star-shaped building on a new island facing the harbour basin. Navitas is the city's location for innovation and entrepreneurship, blurring the boundaries between commercial business development and research. The city's grass-roots movement for start-ups, #Aarsome, was co-sponsor, and that made its mark on the evening.

"Compared to the other Idea Garages, there was a greater focus on what to do to find an investor," explains Jens Friholm.
As at the first Idea Garage in Copenhagen, there was a wide range of ideas. The technological solutions were mainly digital platforms for everything from shared laundry services to 'how to write' books and staff development.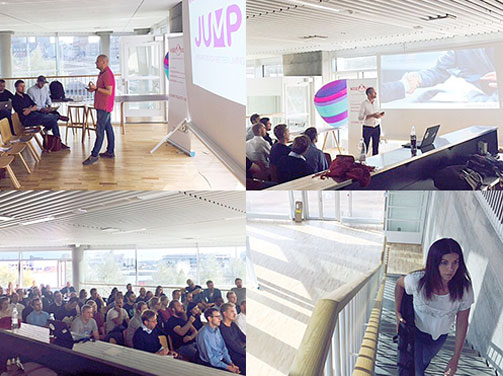 Snapshots from Aarhus, where the Idea Garage was held at Navitas, the city's launch pad for research and innovation.