The human factor is crucial if an idea is to become a million-dollar business, says the co-founder of Bownty, Steffen Frølund. In just a few years, he has made the journey himself from start-up to success.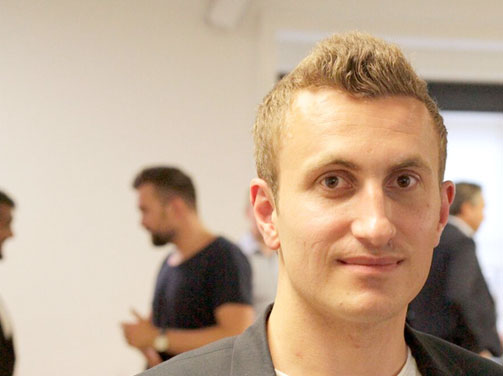 Steffen Frølund is co-founder and former CEO of Bownty, which has been providing an overview of deals on the Internet since 2011. Here he is at Telia's Idea Garage at Republikken in Copenhagen, where he was one of the four judges.
Steffen Frølund has just left Bownty. He has written on LinkedIn about the next adventure he is looking for. The best match would be a financed start-up with a world-class product, which aims to disrupt the industry and where he could be co-founder.
Steffen Frølund and Bownty's two other co-founders know this journey from the inside. In 2011, they were an unknown tech start-up. Three years later, the company bought out its strongest competitor, and in 2015 it picked up DKK 25 million from investors. Bownty is now the market-leader in its field in Europe.
'A-team' can win with 'B-idea'
In Steffen Frølund's LinkedIn profile, he sums up his most important experience from Bownty: You need to surround yourself with fantastic people. Find people who are smarter than you are. An 'A-team' can make things happen, even with a 'B-idea'.
- Are good ideas thick on the ground?
"Yes, in a sense. There are far more ideas than successful companies. Many other 'ingredients' have to be in place. Such as demand from the market, the right people and the right networks. There are many places where it can go wrong."
- What is the most important factor in achieving success?
"My experience underlines the fact that it is the human factor. Both the founders and the employees. This is the hardest variable to get right and where things generally break down."
- What are good people?
"It's hard to explain. When you are starting out, there is a lot that you don't know; most of it, in fact. You have to be able to assimilate new knowledge quickly. For example, find out about contracts if you want to buy a company. You need to be ready to learn and establish quick learning loops, where you and the team can absorb the new knowledge."
Experience can impede development
You might think it would be easier to pull in some experienced people. Not always, says Steffen Frølund.
"There are two sides to experience. It may be a shortcut to learning loops. On the other hand, experience may remove the naiveté that you need. If you are experienced, you understand the market and know how it works. Or so you think. But the people who get ideas don't know what they are doing. They just do it. If the timing is right and the technology supports the product, a small start-up can quickly change the market."
Down in the basement, many optimistic nerds have messed around with technology in ways that should not really be possible. But suddenly they have created something, as Mark Zuckerberg did with the Facebook site.
"The exploratory phase is exciting and crucial. If you come up with something, it should be commercialised. I can only recommend the trip."
10 things that make it great to be a start-up
Telia asked Steffen Frølund to name the 10 best things about being a start-up, whether you are your own boss or an independent part of a core company operating under special conditions (a spin-up).
1. It doesn't need to be so risky. You used to get into the local paper if you started your own business. Now there's a whole host of people working on their own ideas. Either alongside their day jobs, as 100% independent businesses or under the auspices of large companies in 'sandboxes' or as spin-ups.
2. People in suits fight for you. They want the people who are part of the innovation culture, to give them access to smart technology ahead of their competitors.
3. It moves fast and it's fun. As a start-up, you may not necessarily be free to organise your day. But you will see rapid results. It is as addictive as a one-armed bandit. It is the 'gamification' of innovation.
4. You don't need to know everything. You can learn anything you don't know on YouTube, even if it's about repairing a windmill in Uganda. There are no excuses for not doing it yourself.
5. You work towards your own goals. You step off the treadmill and are driven by your own desires. It doesn't matter whether you are out to save the world, get stinking rich or solve a problem that has been irritating you.
6. You work with the best people. Very many companies are shocked at how quickly entrepreneurs can experiment and set up learning loops.
7. Other people are glad to help. Some people think you should keep your idea under wraps. On the contrary; you should get it out there and test it. On the way you will meet a host of dedicated people in the start-up world, who will be glad to help you fine-tune your idea.
8. In tech, there are no gatekeepers. You can sow the seeds of a global corporation from a basement with a mobile and a laptop. Your concept may not involve any physical products.
9. Ideas flow more freely. Some large companies almost have a sophisticated immune defence system, where ideas are blocked like a virus so they don't threaten the company's 'cash cow'. Start-ups have no barricades.
10. It gives life meaning. If you have a little entrepreneur inside you, it is one of the most satisfying things you can experience when your idea is used to make other people's lives better.