We talked to four participants from the last Idea Garage during the Hackathon. One of them was Keld Lindgaard Nielsen from Telia. He got a taste for it at the first Jump event.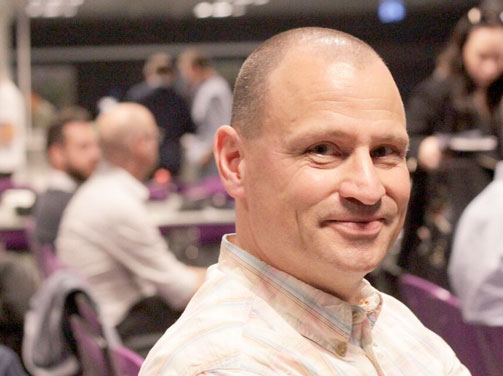 Keld Lindgaard Nielsen, a Service Delivery Manager at Telia, got the idea for Telia Surf, a new Telia service which automatically removes unwanted network content.
"I really want to go forward with my idea, it's not just for fun," says 53-year-old Nielsen, who has worked for Telia for 15 years. After joining the audience for the first Idea Garage at Republikken in Copenhagen a few weeks ago, he got the taste for it.
"It was so great and inspiring to feel the energy and hear all the pitches. I really couldn't resist having a go myself, and I'm doing it for my own personal development."
A washing machine for internet surfing
The idea is a kind of Wi-Fi home box with security, which acts like a washing machine to flush away unwanted content when children surf the Internet. He thinks it is important that Telia has taken the initiative with Jump.
"It creates fresh opportunities for the staff. We have to do this to develop in the right direction."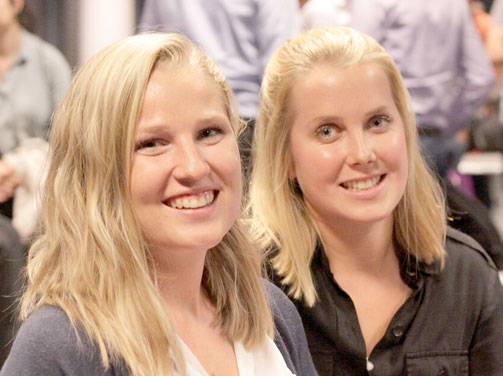 The two CBS students Suvi Kaario and Alina Engel are the brains behind Hooves.
The two CBS students Alina Engel, 24, and Suvi Kaario, 25, have dedicated much of their time over the last 10 months to Hooves, an online platform and future app where horse-owners can search for a suitable rider who wants to ride part-time because they don't have the money or time to keep their own horse. Conversely, riders can search for horse-owners based on e.g. geography or price, and there is a security package to handle payment, contracts and insurance automatically.
At the end of September they will be presenting Hooves to 3,000 visitors at CBS Entrepreneurial Day.
Good atmosphere
"We have been going for a while and are used to presenting Hooves. The Idea Garage is good practice in compressing it down to a few minutes, and there is a nice relaxed atmosphere here," says Alina.
Suvi adds:
"For us it is good to get up on stage and present the concept to a business audience rather than students. We are not actually after investors here, or we would be more nervous."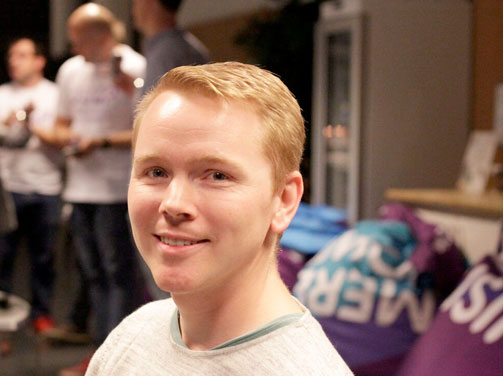 Anders Holm-Jensen has sold his Ørestad apartment, bought a cheap place in Kalundborg and given up his job as a lawyer with Bech-Bruun to go all-in with Ourdio.
"Ourdio is a smart social jukebox, where the song that get the most votes is played next." That's what it says on 30-year-old Anders' business card.
He first tested the idea with a prototype at his own wedding three years ago. Instead of fighting in the corner over the next song, the guests could enter numbers and vote for what they wanted to hear on the playlist.
"They were all hooked," he recalls. Inspired by advice from a judge he heard on the TV programme Løvens Hule (Dragons' Den, a start-up tv show), he quit his job and bought a cheaper home. That gives him two years to dedicate all his time to the app and get by financially along the way.
"I just want Ourdio to be a success. I am open to opportunities; that's why I am here today. The Idea Garage is a perfect place to present Ourdio and get my message across."
Telia is interesting
Telia could be an interesting business partner, he thinks. At events like Telia Parken, for example, where people could vote for the next songs, as they have Spotify and spend on entertainment.
"Ourdio can be used anywhere there is a social gathering with music."
Now there are two of them in the team, and he is looking forward to employing a programmer. The lawyer actually programmed and designed the app himself.
"My approach is learning by doing, and Google is my friend."
Investors and user base are in place, and Ourdio is part of Microsoft's talent programme, so has access to various services and three years' free hosting.
"We can scale really easily," he concludes.