Goda Juskeviciute was on the point of leaving the Hackathon on Friday when she couldn't get any further with her own idea. But a Telia employee persuaded her to stay, and now she is very glad she did. And it can be hard to share your precious idea with others, explains Michela Rockefeller.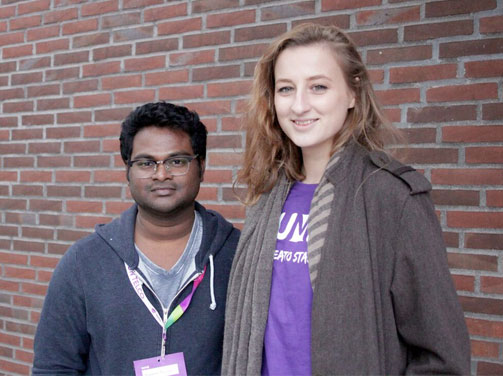 Jenkatesh Kolluru and Goda Juskeviciute are getting a breath of fresh air half an hour before the crucial pitch, when there will be DKK 30,000 and twice DKK 10,000 at stake. They are part of the YummiMummi team.
In just 48 hours, the team of seven people with very different skills have managed to make a video with animation, a physical mock-up with the essential parts printed on a 3D printer, and a website – all for their baby's bottle with milk powder that can be released and mixed with liquid in an instant, in the middle of the night when it really matters.
Right now Jenkatesh and Goda are waiting for the video to finish rendering. That takes four hours, and there are 15 minutes left, so they are relieved to have managed it.
Goda, when I talked to you on Friday, you were ready to leave the Hackathon. What happened?
"I actually had a different idea and it didn't work out, so I thought that was it for me. But a Telia employee was kind enough to spend 40 minutes discussing what the Hackathon could teach me, and fortunately he dissuaded me from going. I am really glad I decided to stay," says Goda, who is an architect.
Jenka Kolluru adds:
"We have developed a whole product in just one weekend, it's incredible. We are almost ready to patent it." Jenka's title is social entrepreneur and manufacturing engineer specialising in 3D printing.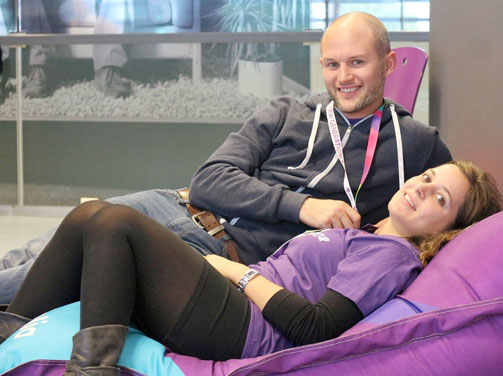 Jakob Kratzer and Michela Rockefeller are taking a break just before the final pitch. The pair are now with the Disrupt Telco team, which plans to offer customers a discount on their mobile bills in return for responding to surveys or viewing targeted advertising.
How do you feel right now?
Michela Rockefeller: "It has been hard to share your idea with people you didn't know before. In the team, we are all equal, which means that the others can challenge your idea. We have had a lot of discussions, but we have found a way."
Jakob Kratzer: "We hit a trough this morning. From there things moved forward, and now we are ready."
Michela and Jakob come from Italy and Austria, but they both work in Denmark, which they say is known around Europe as a good place for start-ups.
Jakob: "Denmark is a hub for entrepreneurship. Our friends think we are very lucky to be here where things are happening. Ideas do really well here. The Telia Hackathon has simply confirmed this."