Over the weekend of 7-9 October 2016, Telia becomes a living organism. There is non-stop team working, with groups breaking up and coming together in new formations, when they are not just stealing a few hours' rest in their sleeping bags in the basement. When the energy is flowing, things move faster than you can say 'Telia Hackathon Weekend'.
Saturday 10.00: Front-end developers wanted on Facebook
Some of the 18 teams need more people. Nicolaj Højer Nielsen is looking for developers and graphic designers on the event lifeline, a closed Facebook group for the Hackathon weekend. His opening line is: "Let's prove the value of social media for entrepreneurship.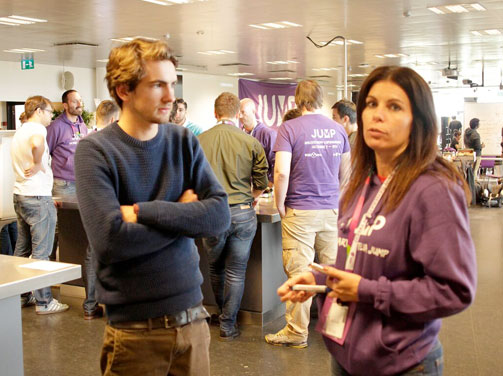 Saturday, 12.27: Split-up in My Wire feeds StoryShare
"I'm afraid we've had a major split-up."
Jan Bigos from the five-man team My Wire takes Lone Jensen from Start Up Wise Guys aside.
"Sit down first and prepare what you have achieved so far," she advises.
She is in the middle of coordinating the 10-minute mentoring meetings. They are tightly controlled with a stopwatch and a roll-call, because the different teams almost have to be dragged away from the mentor tables. Every second with the mentors counts – several of them have flown in from various cities in Europe.
Jan and two other break-aways have already teamed up with a new idea. The three are now StoryShare, a new concept whereby people can share local stories and experience the city in new ways.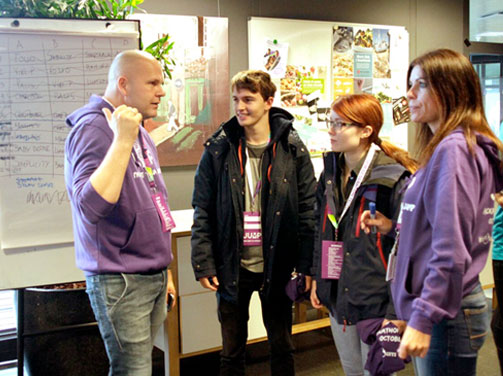 Saturday 12.38: Lisbeth Fly and Adam Edelsten turn up
Lisbeth Fly, 20, and Adam Edelsten, 18, arrive at Telia. They have responded to Nikolaj's announcement from 10 o'clock and are keen to join the Hackathon. Lone and Nicolaj give them a warm welcome and ask them quick as lightning what they can contribute and what takes their fancy.
"Graphic design," is Lisbeth's reply.
"Electronics and IT," says Adam.
There is just time for a photo before the two of them go off to find a team. Right now.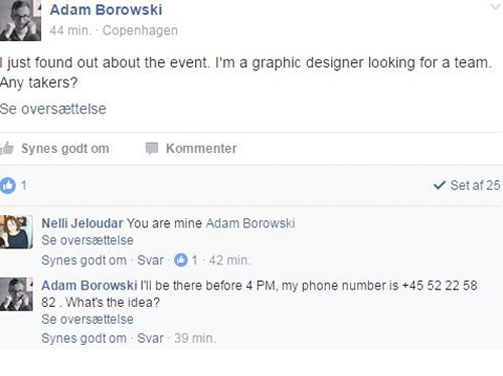 Saturday 14.32: You're mine, Adam Borowski"
Somewhere in Copenhagen, Adam Borowski has also got wind of the event. He asks after a team in the closed Facebook group for the Hackathon weekend. After two minutes, Nelli Jeloudar writes, "You're mine, Adam Borowski".
He promises to be there by 4 p.m.
Meanwhile, the Facebook thread is buzzing with concise one-sentence descriptions of the many start-ups.
Simplicity - Simplifying tech purchases by matching the costumer's needs with current products.
LunchBox - Healthy food made easy.
Chatterbox - Let your child grow with style! A personal shopping service for children.
Teamverse - Next-generation collaborative workspace.
AddCycle - Revolutionising the advertising industry by placing ads on bikes. The users benefit from free bikes, and the advertised companies from exposure all around Copenhagen.
*LIGHT Up* get more out of your day.
People are focussed. The energy flows freely. And the clock ticks round to the final.