A placement at Founders House, which is a shared workspace for tech start-ups, gave 29-year-old Helena Levison an entrée into the Danish start-up world. She saw a need for design in tech start-ups, and now she is one of them herself.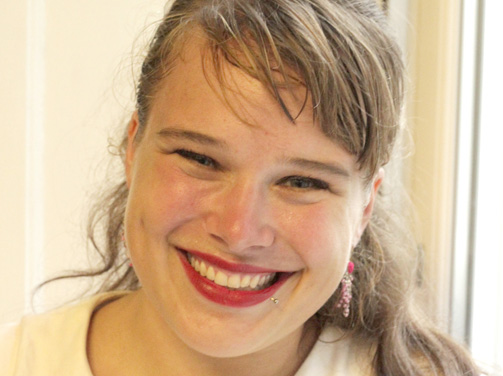 29-year-old Helena Levison goes to Kolding Design School and lives in Copenhagen. The other members of her start-up team come from Vancouver in Canada and Florida in the USA.
Helena Levison originally pitched her idea in a 'start-up bus' on a trip from Vancouver to the Boulder Start-up Week. On the bus, she met two tech guys from Vancouver. A female 'community advocate' within communication from Florida later joined them. The start-up Foster Success, which aims to disrupt the foster parenting world, is now a big hit.
At the actual start-up event in Boulder, they were competing with other start-ups. Their idea ended up in the semi-finals, and now the team is in full swing.
Helena loves the way in which start-ups work.
"We have the flexibility to experiment and try things out. That way we find out whether our assumptions hold up or whether we need to focus on something else. And that's always fun. I don't want a 9-5 job where I have to save up for holidays. I want independence, to be able to go away when I like."
Small victories and rapid action
She describes the work processes in her team as very democratic.
"We have very different skills, so we each have our areas of responsibility. The decision-making processes are quicker when there aren't so many of you. We use our networks when we need to. And people are happy to help a lot when you are a start-up. Almost too much."
Recognition and small successes are important to keep your spirits up. One such victory was when her team reached the semi-finals.
"Then it's yes, let's go out and celebrate."
Now she wants to see how far she can go with JUMP, and obtain useful feedback on how Foster Success can move forward and avoid some of the usual minefields.
"The best thing about being a start-up is that it is a subject you care about and the team are people you don't want to be without. You can't do it alone, it would drive you crazy or kill you."
Platform for foster parents
With Foster Success, the team aims to support foster parents in their work with traumatised children by providing a social platform which, unlike a Facebook group, is tailor-made for the purpose and where sensitive personal details are better protected. They are using Denmark as a proof of concept, but the target market is the USA, where agencies will subscribe to allow the foster parents on their books to use the service.
"I want to make the world a better place. It's not easy, I have to remind myself of that. It takes blood, sweat and tears."