Do you want to board the start-up train and get up to speed quickly? See where to get on and check out the unwritten rules of the start-up world.
The start-up world is a ramified network which is always on the move. If you can find a way in, you will meet helpful people, and new doors will open up.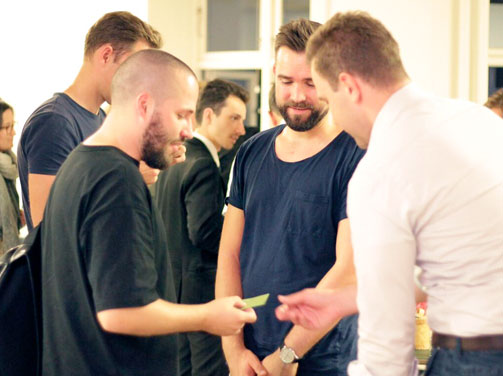 Start-up events like JUMP are among the many places where you can get started if your inner entrepreneur is fighting to get out.
Pay it forward
There are no rules, staff policies or contracts in the start-up world. But there are unwritten rules, explains the external entrepreneurship tutor at CBS, Nicolaj Højer Nielsen.
"A good and important unwritten rule which you hear more and more is 'pay it forward'. This is a culture inspired by Silicon Valley, where others will happily do you a favour without expecting anything in return, except for you to pass it on by doing someone completely different a favour. I was new myself and got help at the beginning, and now when I help a start-up with good advice over the phone – and I do that a lot – I don't expect anything back."
Fair and reasonable
The request should be within the bounds of reason, so don't expect a long report on your business plan. And there are good and bad ways of asking.
"Choose the right person, and do your homework. Ask clear and specific questions, not 'What do you think of my idea?'. Remember that everything is based on trust. Although the start-up world is big and open, it's small and narrow in Denmark. It makes a big difference how you are perceived," advises Nicolaj Højer Nielsen.
Share your idea
All entrepreneurs believe that their idea is worth a fortune, and to begin with they don't dare talk about it. But quite often, many people get the same idea at the same time, says Nielsen.
"Try getting someone to steal your idea. You will find it's really hard, because it takes many, many things to realise the idea. Talk to as many people as possible. That will increase your chances of success."
Tasters at start-up locations
Educational institutions Universities and colleges support innovation and entrepreneurship. CBS has courses and clubs for entrepreneurs. ITU has its own investment firm and urges its students to start their own companies. Aalborg University has project management and an incubator scheme. DTU produces many spin-out companies where students have developed their business ideas during their studies.
Shared workspaces Republikken, KPH, Founders House, DARE2Mansion in Copenhagen. Rocket Labs in Copenhagen and Aalborg. Culture Workspace in Aarhus.
3. Start-up events and organisations Venture Cup Denmark holds competitions to promote entrepreneurship at all Danish universities. TechBBQ is an annual conference for start-ups in Copenhagen. CPHFTW (Copenhagen for the win) also holds events.
Social media and the web Follow and get up to speed with Danish and international entrepreneurs on Twitter. Find groups on Facebook within your area. Follow newsletters like Trendsonline or Iværksætteren.
Spin-off or lab. Could your idea perhaps be tested under the auspices of the company where you are working right now? Maybe as a spin-off or as at Leo Pharma, which aims to use the LEO Innovation Lab not to discover new drugs but to develop digital solutions along the lines of Mobile Pay in the financial world for people with psoriasis.