The 'shared workspace' Republikken on Vesterbro in Copenhagen was the setting for Telia's first JUMP event, the Idea Garage. 13 keen start-ups each had four minutes to pitch their ideas to an expert panel of investors and serial entrepreneurs.
Some came in suits, but most were more casual in trainers and T-shirts, in keeping with the mild September evening. Some ideas basically existed only in the head of an individual man or woman. Other start-ups had their team in place, were doing business and perhaps even making the jump abroad. All radiated drive, varying degrees of nervousness and a desire to hear the judges' suggestions for how they could go further, faster and higher. All this in front of a rapt audience.
A wide range
Right after the welcome from facilitator Nicolaj Højer Nielsen, the ideas dropped like pearls from a necklace.
There was Danish tea from wild plants – including samples to taste. A website pairing companies with freelance workers. A sales platform for small IT companies, which uses a CRM system to gather, process and communicate the knowledge of the sales force through chat functions. An online pitch tool for start-ups, so they can upload videos of ideas to the internet, obtain feedback and get matched up with employees, investors and anything else they need in the team. And much more.
The first JUMP event offered a wide range of ideas and progress made. The next stop is Aalborg on 21 September.
PHOTO-REPORTAGE: IMAGES WITH CAPTIONS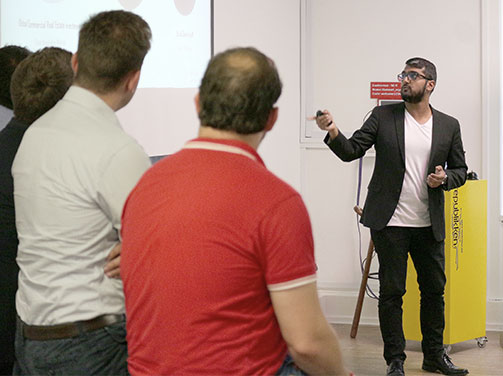 BrickShare aims to enable anyone to invest in property. For as little as DKK 1,000, you can join via crowdfunding. You can expect a high return, promised Junaid Ahmad. He resigned from Danske Bank to give all of his time to the idea. Together with his partner Yassin Khedri, he is looking for a real estate specialist – and EUR 1.5 to 2 million. The plan is to launch in Copenhagen this autumn. The judges asked about the legal position, which the duo are working on with several lawyers.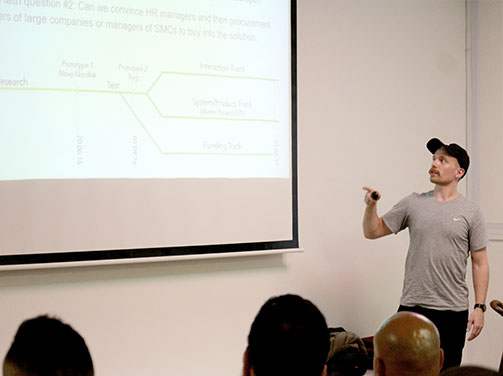 Lasse Korsholm Poulsen presented an 'internet of things' device, designed to nudge workers into moving around more in the office and so reduce back and neck problems. The idea is for companies to subscribe to the service. The judges wanted to know whether this form of self-monitoring was better than an Apple Watch, but they were impressed that the concept had already been tested at Novo Nordisk and now at Tryg. They praised the project for addressing a social problem, which could open the way to other financing options.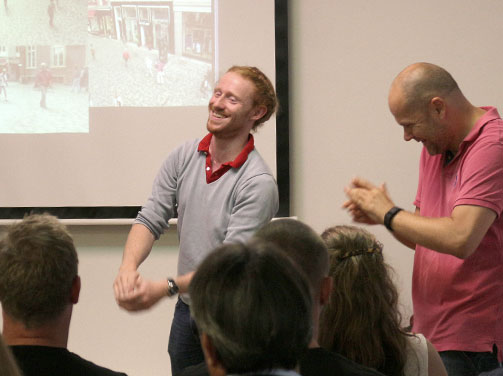 Henrik Boensvang aims to launch a form of Tinder, but for ideas. He has produced a business plan and has strategic partners from Copenhagen University, where he is studying philosophy. Now he wants to test the idea, because good ideas drown in the ivory tower. He just gets his final point in before Nicolaj Højer Nielsen cuts him off after four minutes.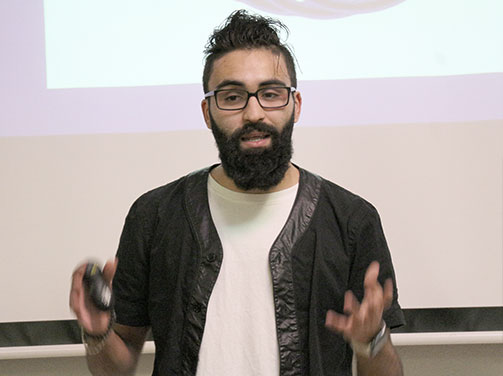 Tomas Bundrys is pushing the idea of a social platform for creative people with its own cryptocurrency. The judges wanted to know whose problems it solves and why it needs its own currency.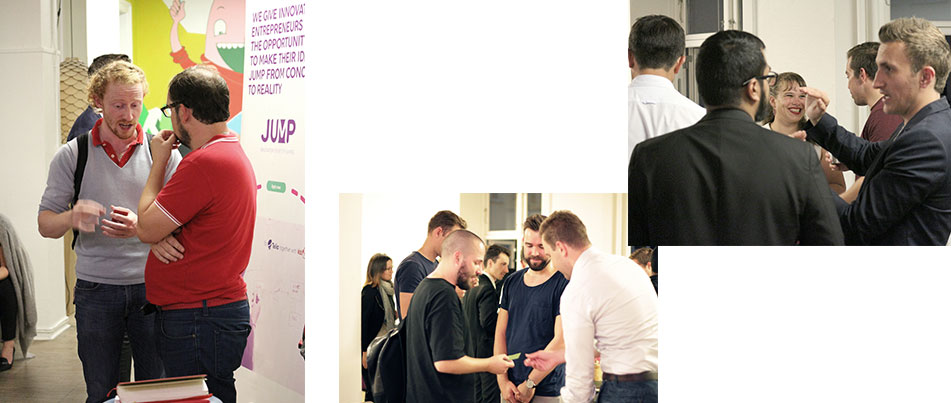 In the short break and after the show, there was a lot of mingling and swapping of business cards.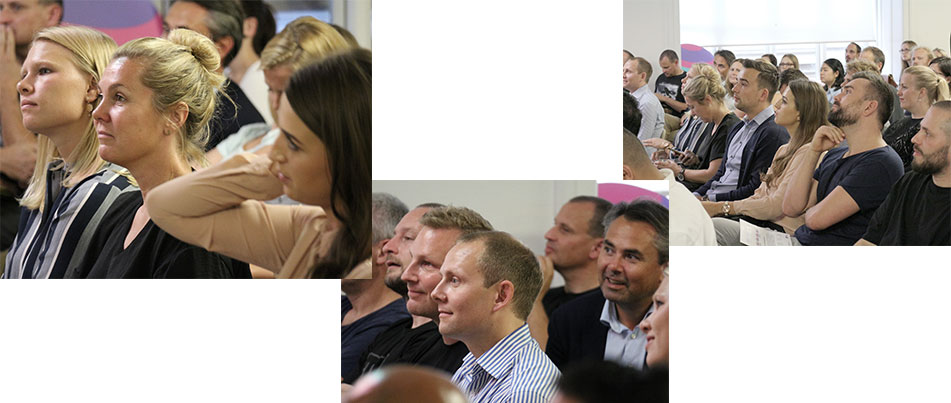 The audience listened intently to the presentations and the words of the judges.
Christobal Alonso from Wise Guys wrapped up the Idea Garage by saying that the most important thing was to get out there and talk about your idea. It doesn't matter that are glitches with your PowerPoints and the whole thing is slightly painful; the reactions you get are very valuable. Garage start-ups can turn into big companies, and big companies can learn a lot from the way in which start-ups innovate.