Markus Ramlau is using his ten years of experience from the TV industry in a new online tool for TV production managers who need staff for a project, often at the last minute.
The founders complement each other well. Thomas Qvist Krüger has a background in the financial world. Markus Ramlau knows the industry and has the network. Together, they have created a platform in the form of a website which links freelancers and production companies and also offers extras such as a calendar which gives freelancers an overview of their jobs.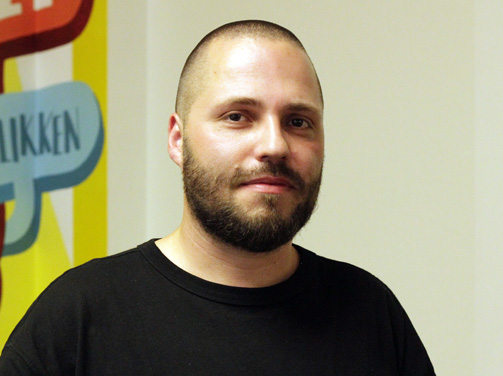 34-year-old Markus Ramlau from the start-up Click A Crew, which is already established in Denmark and is now making the jump abroad.
A complex process simplified
An easy way of finding and hiring people was something he always lacked when he was a production manager.
It is usually a very hectic and messy business getting good people at short notice, such as when he was production manager. Now he has created his own solution.
The business model is simple: the freelancers pay five per cent to Click A Crew for confirmed jobs.
The team is crucial
The duo already have two employees, a board of management and even big clients like Warner Brothers and Discovery in Denmark, but the dream does not stop there.
"We are enhancing the concept all the time. Development never stops, even though the product is on the market. As a team, we need each other very much, and teamwork is crucial. Right from when we sat and worked at home to now, where we have our own office. We know each other well and we are effective together."
They see a demand out there in the world, and they want to test it out.
"Now we are looking for investors. The plan is to scale up worldwide. We are already in contact with the UK and the USA with a box solution which anyone can use to plan TV productions. The processes are the same wherever you are."